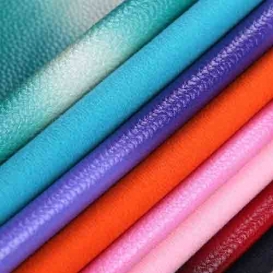 Split PVC Synthetic Leather Exporters from Haryana
PVC Synthetic leather is the best substitute of Genuine Leather or Real Leather as it is not being produced by killing or hurting animals. It is free of odor, hygienic, durable, and easily washable too. Due to its cost-effective production process, it is now being used in almost every industry.
Serving Clients Since 2008!
To fulfill the requirement of our clients and various industries, we have installed PVC synthetic leather plant in Bahadurgarh, Haryana. We have been serving the Furniture, Automobile, Footwear, Apparel, Luggage, sports goods, and leather goods industries for more than a decade and still, trying to make our products much better than earlier.
Our Infrastructure
Our synthetic leather plant is equipped with the most advanced and state of the art technology imported from Italy. With the quality and tons of color options, we are in the first row of best PVC synthetic leather manufacturers in Haryana.
Minimum Order Quantity :- 2000 Meters