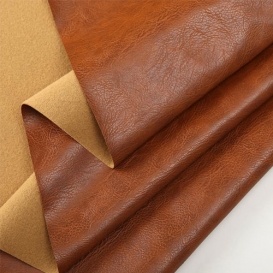 Giriraj Coated Fab Pvt Ltd- The Leading Exporters of Artificial leather from Haryana
Artificial leather which is also called "bicast leather" is basically a material that is made from leather, covered with a polyurethane layer. Inner splits of hidings are used in the preparation of PU leather. The polyurethane coating is created to make the leather more quality which can easily be cleaned.
Made of Fine Quality Raw Materials
We are the eminent Artificial leather manufacturers from Haryana, manufacturing a complete gamut of PU Leather for cater to the uncountable requirements of the leather industries. The raw products from the trusted vendors of the market, serving industries for years.
Features
The Artificial leather range that we offer to our clients are equipped with a myriad of features such as economical price, moisture permeability, good abrasion resistance, good air permeability, durability, doesn't wear out easily, and much more.
Minimum Order Quantity :- 2000 Meters